Who we are
Buzzoms enables you to live a bra free lifestyle
We're more than tops and dresses, we're the start of a braless revolution for women of all shapes and sizes.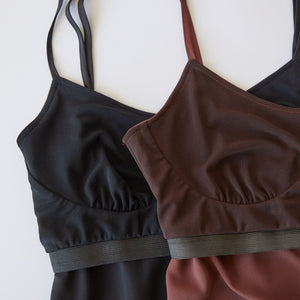 The Boob Pocket
Our Built-In Bust Support
Our patent-pending boob pocket is a comfortable inner lining with a thick elastic band to support your boobs without a bra. It's made of breathable, power mesh and elastane for comfort. You don't have to worry about sweat, underwires, or additional padding (phew).

Utilizing other design elements, like breast darts to provide support and shape, we're doing everything to allow for women of all body types to go braless! We love to see it.
The BFF Size
Sizing Based on Real Bodies
Awkward fits are for dates, not for clothes. With extensive research on bust, waist, and hip measurements of over 100 women of various shapes and sizes, we were able to craft a unique size guide that matches your bust and body to the best proportions. We got you sis.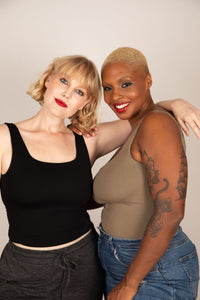 Buzzoms is a small business, but we have a big mission. Gone are the days of uncomfortable bras. Of squeezing into sizes that were not made for our figures. We created a sizing model based on real women's bodies and we said goodbye to uncomfortable and ill-fitting bras.

At Buzzoms we believe that women of all shapes and sizes should be able to go braless. Because well, we've been through enough. We're not just here to support your girls, but to support you.
Collection
Favorites
Check out a few favorites from our collection archive.
Shop now
A Message From Our Founder
True Experiences
When my boobs started to develop in middle school, it felt different. They felt big and out of place for a 13 year old, with a little body. 16 years later, I was still having the same troubles with my chest. No clothes fit them, all my bras were sized incorrectly, and my 36F cups always felt like they were out of place.
Buzzoms is my passion business for women around the world, helping them go bra free so they can avoid these issues and have a great experience with clothing and style.
Marshay Clarke, CEO & Founder